WHITE HOUSE GRAMMAR SCHOOL
was established in 1981 by Mrs. Nuzhat Yazdani in Karachi.
Her philosophy was to foster a love of learning and provide affordable education to children without compromising on quality. She created an institution where merit was the only criteria for admission, and kindness, honesty and respect were the only guiding principles of treating all.
During the early years of White House Grammar School, Madam Yazdani was guided by renowned patrons who were successful in their respective fields, such as the first mayor of Karachi -  Mr. Hakeem Mohammed Ahsan, Mr. Mir Khalil-ur-Rehman – Founder Jang Group, Mr. Mahmood-ul-Haq Usmani, Mr. Haroon Saad, Dr. Ismail Saad, Dr. Zia-ul- Haq Usmani, Dr. Atta-ur-Rehman, Syed Azhar Yazdani and Dr. Salim-Uzzaman- Siddiqui. White House Grammar School views academic achievements as only one part of the learning process however larger perspective encompasses the objectives of schooling beyond classroom instructions, academic performance and good grades. We ensure a dynamic curriculum which is challenging, application based, integrated and relevant to nurture and cultivate the imagination and the self-esteem of young minds to be tomorrow's leaders and responsible global citizens. WHGS was amongst the pioneers of initiating Cambridge Assessment International Education (CAIE) system. Additionally, the school won "Best School of the Year Award" by the Board of Secondary Education Karachi (BSEK) for six consecutive years.
Mohammad Ali Yazdani, joined White House Grammar School in 2006. Following his mother's legacy of providing affordable and quality education, Mr. Ali Yazdani, took a giant leap forward and, tirelessly and enthusiastically worked on growing accessibility to quality education to masses across Karachi by converting one stand- alone campus into a chain of schools.
Today, WHGS has multiple purpose-built campuses in all areas of Karachi catering for students of kindergarten to O levels and Matric having integrated and centralized curriculum, assessments, co-curricular activities. His work at WHGS includes overall school management, organizational development, academic policy and planning and many more. To date over 34,000 students have studied at WHGS. Our Alumni include graduates of prestigious higher education institutions / universities of Pakistan and overseas. WHGS students are serving at top executive positions in the fields of science, technology, business and social development. They have made their mark as successful entrepreneurs around the globe. While we are content with the quality of education and the trust parents repose in us to provide a bright future to their children, we continuously seek self improvement to stay abreast with the developments in educational field.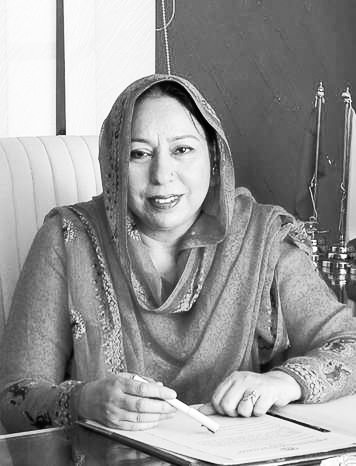 Nuzhat
Yazdani (1953-2019)
Founder
Madam Nuzhat Yazdani was born in 1953 to Mr. Mahmood-ul-Haq Usmani, a renowned advocate and political leader of his time and Mrs. Rabia Usmani, an eloquent poetess fluent in Urdu, English, Arabic and Persian. She graduated with a B. Pharm. degree in 1976 from University of Karachi. Inheriting the leadership qualities of her father and unwavering support of her husband, Syed Azhar Yazdani, she founded White House Grammar School soon after in 1981. To satisfy her urge to learn and continue the process of learning and self-development, she balanced motherhood along with her educational endeavours, completing her B.Ed. degree while raising her children. She was a woman of substance who made worthwhile contributions in the private education sector as well as in the fields of philanthropy and social enterprise. Whether one knew her in a professional or personal capacity, Madam Nuzhat Yazdani was recognized as a kind-hearted, energetic, humble and God-fearing human being.

Throughout her life, she remained steadfast as a devoted wife, loving mother and grandmother, an inspirational mentor, a lifelong teacher and brilliant leader of White House Grammar School. Her year long battle for survival against cancer in the midst of painful circumstances was exemplary. Despite encountering her own set of difficulties in life, she faced challenges head-on with courage and perseverance, relying solely on Almighty's unflinching support. She remained extremely valiant in all her actions and deeds until she breathed her last. Please take out a moment to recite Fatiha for our beloved founder.
Mohammad
Ali Yazdani
President & CEO
"Our aim is to develop students at White House Grammar School into perspective leaders and entrepreneurs in different walks of life, individuals with passion to broaden their perspective and face life's challenges with courage and conviction. White House Grammar School has successfully completed FOUR decades of excellence and ever since we have been thriving to provide an environment that is conducive to learning as well as helpful to a balanced personality uplift. In present times technology has become an integral part of human life and is developing at a rapid pace.
These frequent changes have made us realize that the curriculum and educational technology needs to be commensurate with the changing times. We do realize that it may not suffice to sit back and relax on our past laurels, but as all dynamic institutions we need to rejuvenate ourselves in building a progressive learning environment. We strive to provide knowledge, skills, abilities, attitudes and beliefs that are essential for a productive and successful professional life. We look forward to providing quality education and will continue our commitment towards excellence, serving the future generations of our nation and making White House Grammar School an emblem of a star studded future."
Fatima
Yazdani
Director
"Our philosophy is to provide affordable and accessible education to children from all walks of life without compromising on quality. At White House Grammar School, we offer an educational program that fosters an urge for learning. Our belief is that children from all strata of society should have equal opportunity to experience the joy of self improvement and develop passion for learning. We do not believe in creating robots that demonstrate rote memory of course content. Instead students must learn for meaningfulness and form a strong foundation for life-long in order to become self- sufficient to keep up with the complex and ever-changing world. Strong transparent communication between home (parents) and school (teachers) is the key to a caring and nurturing environment.
It is this environment which helps promote an excellence in teaching skills which results in high academic achievement and enables children to realise their potential at all levels. We wholeheartedly work as a team to make White House Grammar School a comfortable abode which children love to attend and parents believe their children are receiving quality education which is second to none. A place where teachers are held in high esteem and candidly express their joy of working with pride."